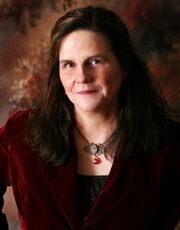 Jana Oliver has the perfect job—she listens to the voices in her head and then writes their stories. Her latest
creation, BRIAR ROSE, is a dark steampunk retelling of Sleeping Beauty, complete with Hoodoo, a vengeful Civil War ghost, and metal magic.
In Jana's young adult Demon Trappers series, Riley Blackthorne, Atlanta's first girl Demon Trapper, takes on a host of Hellspawn and their diabolical masters. This multi award-winning series has spread across the globe, with editions in ten countries.
When she's not daydreaming new stories, she can be found savoring a growing collection of single malt scotch and old books.
Ad blocker interference detected!
Wikia is a free-to-use site that makes money from advertising. We have a modified experience for viewers using ad blockers

Wikia is not accessible if you've made further modifications. Remove the custom ad blocker rule(s) and the page will load as expected.